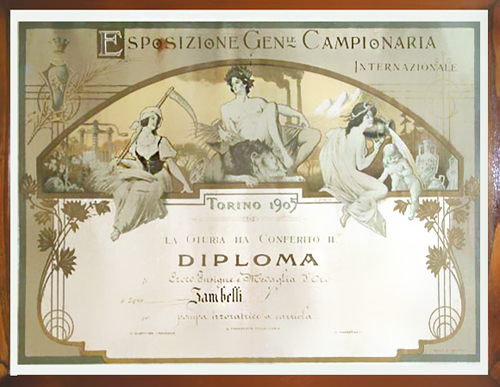 Zambelli was founded in 1888 by Joseph Zambelli, a blacksmith whose inventiveness and ability allows him to pave the way for a major project.
The workhorse of the Zambelli of the beginning is the production of pumps and accessories for spraying.
Zambelli boasts a glorious past demonstrated by all the accolades and acclaim that gathers since the early '900. The tradition is passed from generation to generation, with the first Cav. Albano and then with her daughter and son in law.
In October 2001, Zambelli was bought by brothers Raffaele, Lorenzo and Ivo Pillan holders of an established company in the same sector, the Enotecnica Pillan, whose production is aimed primarily at small and medium-sized wineries.
The new owners are more than ever determined to keep the name Zambelli with choices that have as their objectives:
- The production of high quality machinery
- The gradual expansion of the product range
- A focus on technology which meets the demands of an international market in expansion.
Zambelli TODAY
Since 2005 Zambelli has become Zambelli Enotech, the name changes but tradition and the brand remain unchanged.
Currently Zambelli Enotech manufacture a wide range of products that includes pumps, filters, destemmers, refrigerators, vertical and pneumatic presses, semi-automatic bottling lines and other equipment for oenology, for fruit processing and olive oil cold extraction. Nowadays Zambelli Enotech products are appreciated both in Italy and internationally.
Zambelli Enotech now exports most of the world; obtaining these excellent results is a stimulus to growth for a company that has always been able to renew itself over time.