Refrigerators Brina
Description
Water exchanger with stainless steel pump, warm-cold.
Designed to refrigerate or heat the water for use in tanks with cooling jackets or plates, but also for conditioning of environments.
Suitable for all cooling processes:
in enology for the control of fermentation
in agriculture for the cooling of cells for the preservation of fruit, vegetables, etc.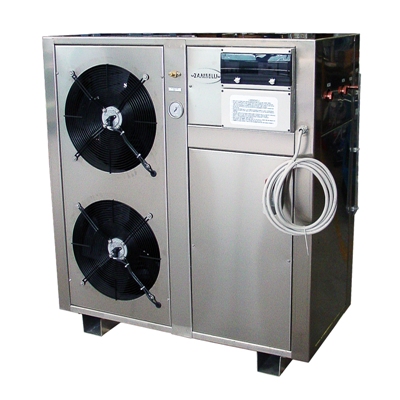 Compressor

FRK/h Min/Max

-9 °C +10°C

Motor
BRINA 1,5
1,2 Kw
1200/3600
1 ph
BRINA 2
1,5 Kw
1500/4200
1 ph
BRINA 3
2,2 Kw
2500/7000
3 ph
BRINA 4,5
3,8 Kw
4000/12000
3 ph
BRINA 6
5,0 Kw
5000/14000
3 ph
BRINA 9
7,5 Kw
8000/20000
3 ph
BRINA 12
10 Kw
10000/28000
3 ph
BRINA 15
15 Kw
13000/36000
3 ph

Download PDF