Grapes receiving hopper
Description
AISI304 stainless steel grape receiving hoppers.
Available in different sizes according to the customer's needs with 3 to 30 ton variable capacities.
Grapes are conveyed with one or two screws (according to required capacity) with diameter 300, 400 or 500 mm. according to need. All our hoppers come with a solid tubular frame to ensure adequate resistance to grape impact during the truck unloading phase.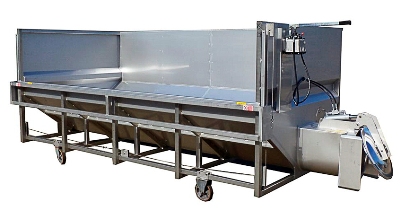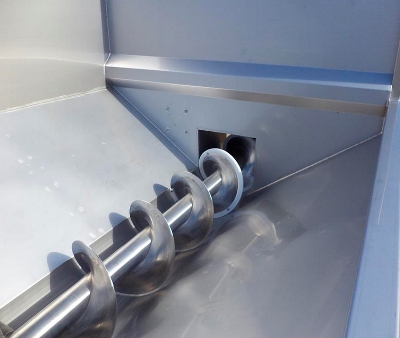 Detail of hopper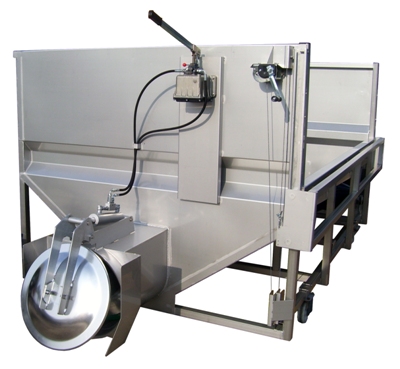 CHARACTERISTICS
Lunghezza (mm)
Larghezza (mm)
H. lato scarico (mm)
H lato opposto (mm)
Lamiera AISI304 sp.
Tubo telaio AISI304
Tubo spirale (mm.)
Diametro spirale (mm.)
Diametro chiusino (mm.)
Moto riduttore variatore
Giri coclea (g./min)
VASCA TIPO "A"
4000
2450
1000
2060
2,0 mm.
50x50
ø 114
ø 400
ø 500
4,0 Hp.
3,5 - 18
5000
2450
1000
2060
2,0 mm.
50x50
ø 114
ø 400
ø 500
4,0 Hp.
3,5 - 18
6000
2450
1000
2060
2,0 mm.
50x50
ø 114
ø 400
ø 500
5,5 Hp.
3,5 - 18
7000
2450
1000
2060
2,0 mm.
50x50
ø 114
ø 400
ø 500
6,5 Hp.
3,5 - 18
VASCA TIPO "B"
3000
2000
900
1650
2,0 mm.
50x50
ø 114
ø 400
ø 500
4,0 Hp.
3,5 - 18
4000
2000
900
1650
2,0 mm.
50x50
ø 114
ø 400
ø 500
4,0 Hp.
3,5 - 18
5000
2000
900
1650
2,0 mm.
50x50
ø 114
ø 400
ø 500
4,0 Hp.
3,5 - 18
6000
2000
900
1650
2,0 mm.
50x50
ø 114
ø 400
ø 500
4,0 Hp.
3,5 - 18