Press filters 400x400, 500x500, 630x630 "HF" series
Description
The filter presses series "HF" are available in three sizes: 400x400, 500x500, 630x630.
The frame is constructed in all its parts in stainless steel, is mounted on wheels, has drip tray made of stainless steel, the closure of the filter unit takes place by use of a hydraulic closure with a manual or electric hydraulic closure (optional). The plates are in polypropylene for food use as well as filter cloths. E 'equipped with ball valves product inlet / outlet, pressure gauges for pressure display incoming / outgoing product.
MAIN FEATURES
Aisi 304 stainless steel frame
Manual hydraulic closing
Pistons feeding pump, stainless steel aisi 304
Expansion vase
Pressure switch
Ball valves inlet/outlet
Fittings DN 40mm for the 400x400, DN 50mm and 60mm for bigger models
Drip pan made of stainless steel Aisi 304
Discharge valve on drip pan with butterfly valve DN 25 mm
ACCESSORIES - OPTIONAL
Electric hydraulic close
Version for wine, predisposition to use plates with paper filters (solo versione 400x400)
Extension
Sensor against dry running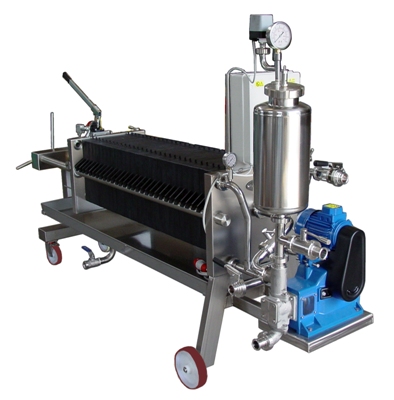 HF 400x400 yeast version, frame for 30 plates, complete with press plates.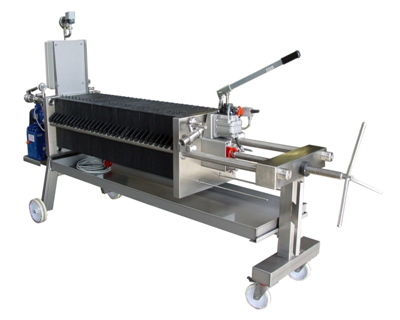 HF 400x400 yeast version,manual hydraulic close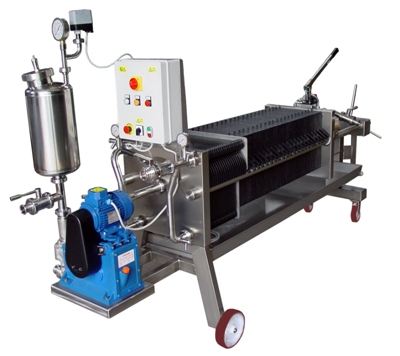 HF 400x400 combined model for press and carton filtration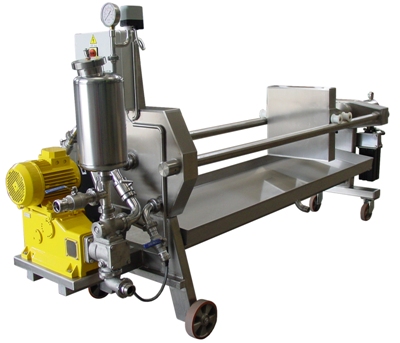 HF 500x500 frame for 30 plates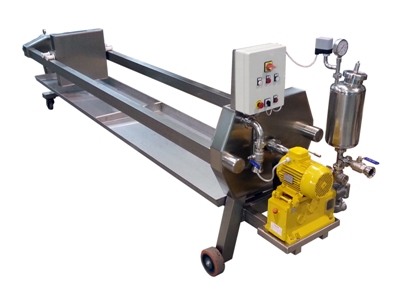 HF 630X630 frame for 60 plates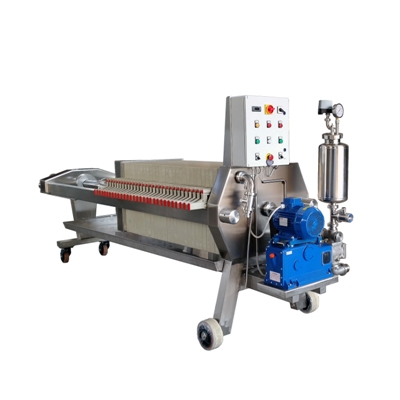 HF 630x630 frame for 40 plates, complete with 30 plates and extension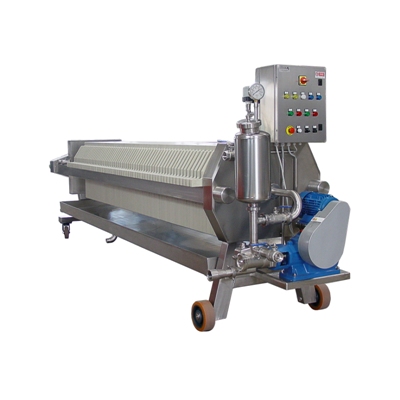 HF 630x630 frame for 60 plates, complete with plates
| | | | |
| --- | --- | --- | --- |
| | HF42D | HF43D | HF44D |
| Plates number | 20 | 30 | 40 |
| Plates dimension | 400x400 mm | 400x400 mm | 400x400 mm |
| Filtrating surface | 4,8 m2 | 7,2 m2 | 9,6 m2 |
| Dimensioni | 2400x700x1400 mm | 3000x700x1400 mm | 360x700x1400 mm |
| Peso telaio | Kg 217 | Kg 255 | Kg 280 |
Dati filtri in aggiornamento

Download PDF
---