Peristaltic pumps ZETA-PE
Description
Peristaltic pumps have the most gentle movement of wine/must pumps. Thanks to the coupling to the hopper (optional) is possible to transfer mash consistency fluids, dregs, destemmed grapes and other alimentary products. The type or work assure a linear pumping, limited squashing and a complete absence of product heating. Rubber hose is compressed by rotating aluminum rollers mounted on bearings for minimum friction. The rubber hose is lubricated at the factory with food grade lubricant and does not need periodic lubrication. The machine is entirely manufactured in stainless steel, including the components not in direct contact with the pumped fluid.
Advantages and Characteristics:
Variable Speed Frequency Drive on all units.
Speed adjustable from the control panel (standard)
Long range remote control available [forward/reverse, stop/start, and speed] (optional)
Self priming till 7 mt. depth
Maximum exercise pressure of 6 bar (on request till 15 bar with vacuum system)
Reversible flow
Hose is lubrication-free. Food grade hose is lubricated during manufacturing and does not need periodic lubrication
Rotating aluminum rollers reduce friction and extend hose life
Pressure compensators on both inlet and outlet eliminate 'knocking'
Optional pressure switch
Optional hoppers for must/pomace. Choose between integrated and free-standing; Integrated hoppers connect directly to the pumps---inlet flange of pump is bolted to outlet flange of hopper. Stainless steel hopper and auger. Motor with gear reduction. Takes ~15 minutes to attach/remove the hopper
Optional vacuum for greater flow; particularly useful with must
Optional Dual Level Float control for hopper
Safety stop in case of rubber pipe damages/breaking
Easy cleaning with "C.I.P." cycles (clean in place)
VACUUM CONTINUOS SYSTEM: Vacuum system increases the flow rate. It is particularly useful when pumping must or pomace. Must and pomace pumping rate can be increased up to 40% with this option. Vacuum also increases priming depth to 8 metres.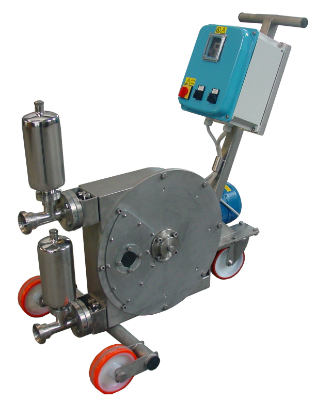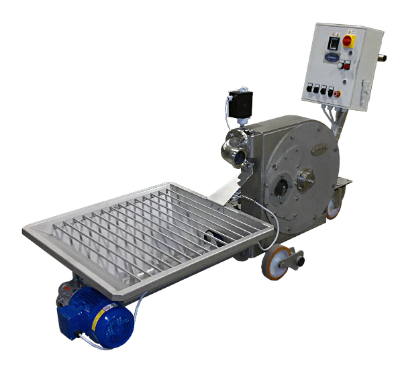 Zeta PE 30 and Zeta PE 50 with optional hopper (starting from models ZETA-PE 50 and ZETA-PE 65)
| | | | | | | |
| --- | --- | --- | --- | --- | --- | --- |
| | ZETA-PE 16 | ZETA-PE 25 | ZETA-PE 30 | ZETA-PE 45 | ZETA-PE 50 | ZETA-PE 65 |
| Pressione | Max 3 bar | Max 3 bar | Max 4 bar | Max 5 bar | Max 6 bar | Max 6 bar |
| Pressione | 6 Hl/h | 19 Hl/h | 20÷ 50 Hl/h | 50 ÷ 80 Hl/h | 17 ÷ 130 Hl/h | 48÷ 220 HL/h |
| Raccordi | Ø 40 | Ø 40 | Ø 40 | Ø 40 | Ø 55 | Ø 65 |
| Dim. tramoggia | 430X400X750 mm | 530X420X750 mm | 760x420x920 mm | 890x450x930 mm | 1150x600x1100 mm | 1300x700x1300 mm |
| Peso | Kg 35 | Kg 45 | Kg 60 | Kg 85 | Kg 155 | Kg 195 |
| Motore | Kw 0,37 | Kw 0,55 | Kw 1,5 | Kw 2,2 | Kw 3 | Kw 4 |

Download PDF